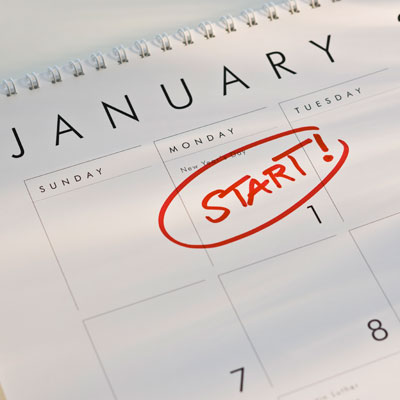 Do your New Year's resolutions include making healthier food choices, getting more energy, losing weight, or improving the way you feel about yourself? If so, read on! We share the five healthiest choices you can make this year to help you reach your health and weight loss goals.
Polyphenols protect our bodies against inflammation, aging, obesity, and more, in part by sending signals to our genes to keep us healthy.
Increase your polyphenols by eating more dark-skinned fruits and vegetables, drinking green teas, and choosing 100% fruit juices.
In moderation, you can even get some of your polyphenols from red wine and dark chocolate☺! Click here for a list of high polyphenol foods.
Increasing your intake of two Omega-3s (EPA & DHA) may be the single most important thing you can do to help keep your body's inflammation in check.
Research also shows that taking GLA together with Omega-3 produces additional anti inflammatory effects. Learn more about GLA from Borage Oil, recommended by the Gene Smart team.
Make sure you are getting enough of the right kind of omegas by following our guidelines, and check out our list of high Omega-3 fish.
In the Gene Smart Diet Study, fiber was the most important factor in keeping participants feeling full and satisfied, helping them to reduce their calorie intake and in the end, lose weight.
Start by increasing your fiber slowly, and gradually increase to the daily recommendation (14-16g for every 1,000 calories consumed).  Be sure to drink plenty of water as you add more fiber to your diet.
For a double whammy, look for fiber-rich foods that also contain high levels of polyphenols!  Click here for a list of fiber-rich foods to add to your diet.
If one of your goals is to lose weight, reduce your targeted intake of calories by 20% to 30% of what is needed to maintain your current weight.  The Gene Smart principles work together to help keep you from feeling hungry or deprived of great tasting foods as you reduce these calories.
Knowing your calorie goal and tracking your progress will help you be successful. Not sure how many calories you need? Check out our calorie calculator.
When done the right way, there is a very strong connection between exercising and reducing inflammation. The key is getting your heart rate up for 30 minutes a day.  Exercise at least 5 days a week for 30 minutes. Start by trying to achieve 50-75% of the maximum heart rate for your age.  You may need to do intervals at first to get enough quality exercise. As you get in shape, increase your working heart rate to 70-85% of maximum.
---
Do you know others who are interested in pursuing an anti inflammatory lifestyle? Send them a copy of The Gene Smart Coach, and encourage them to sign up for their own weekly copy. When they sign up for our free weekly newsletter, they'll receive our 10-page Anti Inflammatory Diet Guide for free!
Words of Wisdom

"A year from now you will wish you had started today."

-Karen Lamb